Healthy lunch tips to stay energized and productive
Your lunch break is one of the most important parts of your workday. It's a chance to recharge and refocus your energy for the afternoon ahead, helping you stay productive. Plus, eating a satisfying, balanced lunch helps keep hunger at bay, and that may reduce snacking on sodas and junk food as the day goes on. It can also help boost your energy, mood, and overall productivity.
Here are some tips on packing a healthy lunch
Plan ahead to help make packing your lunch easier. Make a meal plan, and do your grocery shopping and some prep ahead of time on weekends.
Refuel with a balanced meal. The right mix of foods can give you a sustained energy boost and keep you feeling full for longer. Combine healthy protein foods (such as fish, lean meat, beans, tofu, and eggs) with fibre-rich foods (such as whole grains, beans, and nuts). Don't forget to add a serving each of a vegetable and fruit. For a complete meal, include some low-fat or fat-free milk, cheese, or yogurt. Add a smidgen of healthy fats (such as the kinds found in olive oil, nuts, and fish).
"Brown-bag" it more often. Packing your own lunch can save money. Plus, it gives you more control over portion size and ingredients. But you may want to reconsider using a literal brown bag. Even if you have a fridge at work, perishable foods need to be chilled during your commute as well. Consider investing in an insulated lunch bag with a freezer pack.
The right mix of foods can give you a sustained energy boost and keep you feeling full for longer.
Reimagine your sandwich. Don't limit yourself to the same peanut butter sandwich day in and day out. Use a variety of whole-grain breads, pitas, wraps, and tortillas for the outside layer. Then get equally creative with the fillings. For ideas, check out Eating Well's Healthy Sandwich Recipes and Cooking Light's 102 Super Sandwiches.
Build your lunch in a bowl. Nothing could be simpler—or tastier—than an all-in-one-bowl meal. Start with a healthy base, such as whole-grain noodles, brown rice, or quinoa. Pile on fresh greens, vegetables, lean protein, and fresh herbs. The mix of flavors, textures, and colours will delight your senses. Using a small, lidded bowl will discourage overeating. For inspiration, see BBC Good Food's Healthy Lunch Ideas for Work.
Bring your own beverage. Keep the healthy theme going by choosing your drink wisely. Water is the ultimate thirst quencher. To pep up the taste of water, add crushed berries or a few slices of lemon, lime, orange, or cucumber. Unsweetened tea and fat-free milk are also good options. But steer clear of sodas, energy drinks, and sugary tea and coffee beverages.
Keep it healthy when you're dining out or having takeout for lunch. Choose wisely and always keep an eye on portion size. Choose restaurants that have lighter, healthy food. Order salads and ask to have the dressing on the side. Avoid fried foods and fast food. Many restaurants post their menus and nutrition information online. If you know where you'll be going, decide what you'll order in advance.
Subscribe now and receive a monthly email with the latest articles, guides, and tips to achieve total wellbeing.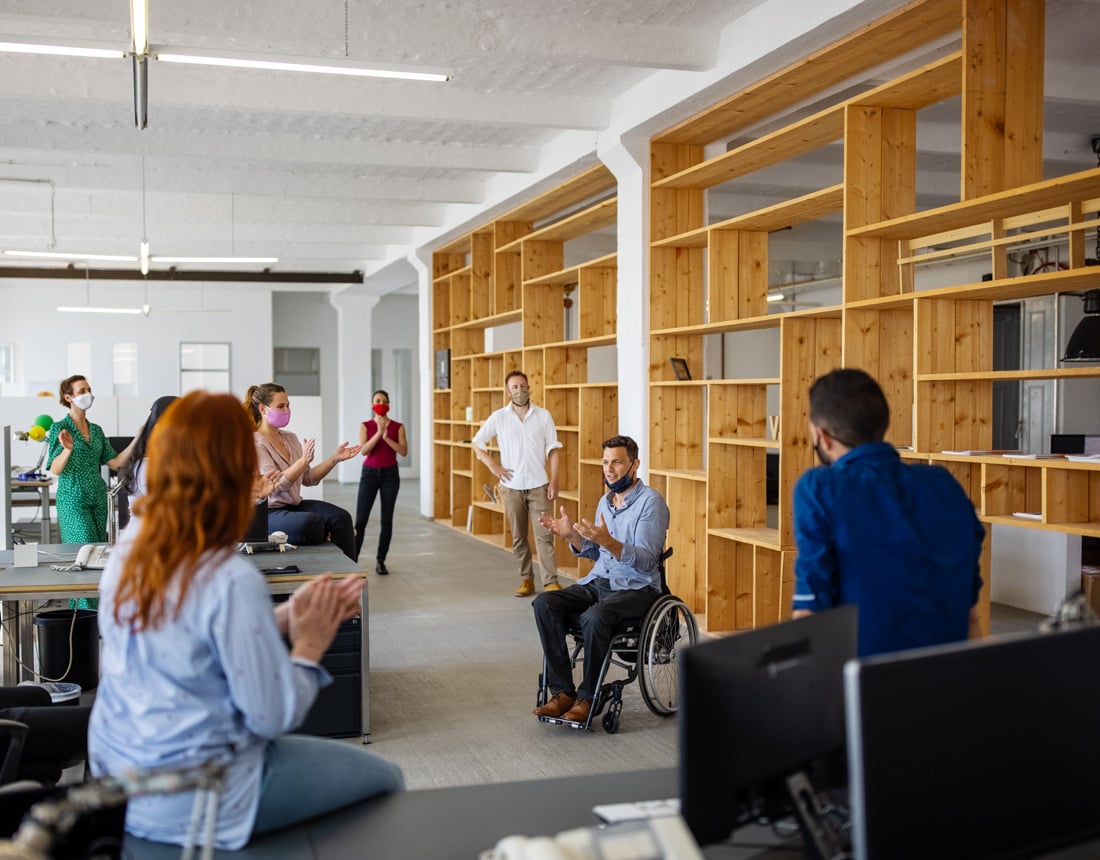 Wellbeing Platform
Improve the lives of people for better business results.
See how today.
Request a demo
Spring may be known as the season of allergies and spring cleaning, but it's also a time of...
To improve wellbeing in the workplace, diversity, equity & inclusion (DE&I) needs to be a top...