How to bring out the best in the people you manage
Great company culture is built, not bought, and it's built by the employees that are enthusiastic about and engaged with their work.
While this is a noble cause, successful companies remember why they are appreciating their employees and make sure that message is communicated to their people every single day. When your team understands in a concrete way how their virtues of hard work, patience, diligence, conscientiousness, and tenacity add value to your organization, they will be encouraged to build those virtues. Both they and your organization will benefit from that. That's why your words or notes of appreciation should include how they create value for your company and its mission.
Here are some tips to help you show appreciation for the people in your organization all year round:
1. Give positive feedback often. As a manager, you play a significant role in your organization's success, mainly through your influence on how engaged employees are with their work. The main reason people leave their jobs is a lack of recognition according to Tom Rath and Donald O. Clifton in How Full Is Your Bucket? "Increase your awareness of how often your comments are negative." Work to provide people you manage with positive feedback as well as constructive suggestions. With each person, you manage, work toward a ratio of five positive comments to every one negative comment, and even more for strong performers.
2. Give positive reinforcement right away when someone does a great job. Don't wait for the next performance review, unless it is the next day. Waiting too long reduces the impact and effectiveness of positive feedback. Instead of being generally complimentary, try to be specific when saying what impressed you.
3. Give positive reinforcement for improvement, not just for excellence. People don't move from being mediocre at something to being excellent at it in a day, and therefore they need encouragement while they are improving. Look for opportunities to reinforce your people's efforts when they're making improvements, even if they haven't yet attained the highest possible level of performance. People appreciate knowing that you see their development.
4. Support flexibility as much as your organization allows. Flexibility is a key factor in employee engagement and job satisfaction. Gallup in the State of the American Workplace report has consistently found that flexible scheduling and work-from-home opportunities play a major role in an employee's decision to take or leave a job. The more control you can give the people you manage over how, when, and where they do their work, the more satisfied and productive they are likely to be.
6. Be a role model of work-life balance. Successful managers work at building a culture that promotes work-life integration because they know that doing so pays off. Ask yourself the following:
How flexible are you when it comes to responding to people's work-life needs?
Do your employees feel comfortable taking time off from work to attend to personal matters?
Do your employees feel comfortable calling in sick when they are too ill to work?
Do you know when it is easy for them to work longer hours and when it would be a real hardship?
Understanding these aspects of their lives will make it easier for your team to get the work done, reduce stress, and meet their personal and professional obligations.
7. Create a positive and supportive work environment. Make connections with people, and help them connect with others in the organization. Employees want to feel a connection with their team, their boss, and the organization as a whole. That connection facilitates working relationships that enable better performance. Employees' support for each other and the information they exchange will help them give their best.
8. Be sure employees have the resources they need to get the job done. People who have unreasonable workloads can have their sense of engagement worn down over time. If funds are tight, get creative and advocate on employees' behalf. Employees know when you're fighting for them, and they appreciate it. Even if you can't get them everything they want and need, be sure to get them what you can and see what other accommodations can be made to address their needs.
9. Create positive relationships with your team members. You can do this through having regularly scheduled one-on-one meetings; giving frequent, meaningful, and constructive feedback; and providing opportunities for growth and flexibility. Feedback shouldn't happen just twice a year. It should be an ongoing conversation so that everyone understands the goals of the team and the individuals involved, how the team's goals are going to be achieved, and what is expected of each team member.
10. Help people feel connected to the work and the organization. Reviewing goals is a productive way to spend your time as a manager. Tie the work to organizational objectives so that employees understand not only their work but the business as well. Also, be sure to tie the work to the individual's career goals so they can see how their work is related to their long-term career aspirations.
11. Provide ongoing opportunities for learning and growth. Encourage employees to take advantage of learning opportunities on the job that will provide them with new skills for their work today and will also serve them in the future by helping them achieve their career goals. Provide ample opportunities for participating in special projects and initiatives as well as job shadowing, apprenticeships, mentoring, and other learning situations to help employees broaden and expand skills and stay current. Encourage people to participate in training, workshops, and online courses. Every employee should have a personal development plan.
12. Encourage employees to come to you with solutions, not just problems. By encouraging employees to think about and propose solutions, you empower them to feel more in control and more invested in the outcomes of solutions that get put in place. By coaching them through their proposed solutions and arriving at an approach they can act on, you also build employee problem-solving skills that will lead to smoother workplace functioning over time.
13. Regularly review career goals with employees. Encourage employees to discuss their goals with you, and help them develop a plan to achieve those goals. Ask about their career aspirations, so you can identify meaningful learning opportunities. You might ask an employee what he or she hopes to accomplish in the next six months or the next year Or ask where the employee wants to go with his or her career overall. Review such topics as projects and assignments, networking, and mentoring to see how they fit with employees' career goals and help them think about opportunities to engage in other work that will get them closer to their goals.
14. Help people see the big picture. Research consistently shows that when employees feel connected to the business and understand how their actions can support it, there is less employee turnover and greater productivity. Employees who learn about their organization's work, services, or products and their customers and competition are much more likely to be engaged. Help people align their individual work goals with company goals.
15. Offer resources and support to help employees manage stress. Stress affects energy, performance, retention, and employee engagement. Thirty-seven per cent of working Americans experiences chronic work stress, according to a 2017 report by the American Psychological Association. And research by Towers Watson found that employees who reported high levels of stress were also significantly more likely to report low engagement and higher levels of absenteeism. Therefore, helping employees manage stress is a priority.
Encourage employees to:
Use the resources available to them through work to help manage stress and build resilience.

Remind them to make use of such resources as the employee assistance program (EAP); health and wellness programs available through work or outside of work; and other work-life resources and programs, such as training and workshops.
Use their vacation time.

Taking time away from work—really away—lowers stress levels and helps employees return to work feeling refreshed.
Take advantage of health and wellness offerings through your organization.

These might include resources on smoking cessation, weight loss, stress management, and other issues affecting employee health, absenteeism, and engagement.
Interested? Do you want to talk to a consultant about creating a workplace that encourages happier, healthier, more productive employees?
Subscribe now and receive a monthly email with the latest articles, guides, and tips to achieve total wellbeing.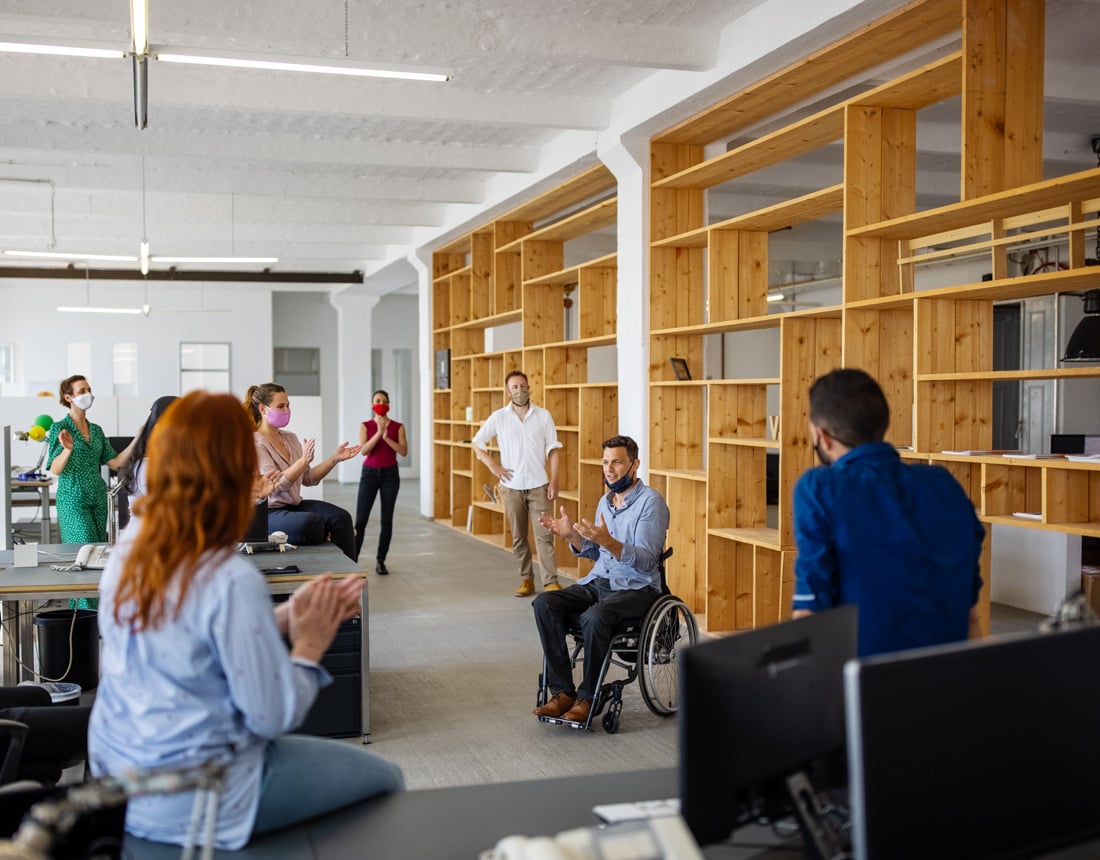 Wellbeing Platform
Improve the lives of people for better business results.
See how today.
Request a demo
While it's important to incorporate whole foods like fresh fruits and vegetables, fish, poultry,...
Mood disorders such as depression or anxiety can cause distressing symptoms including sleep...